Tempered Glass Test Equipment
Safety Glass Quality Testing Equipment

Equipment List:
Ball Test Device
Pummel Test Device
Shot Bag 45kg/46kg
Impact Testing Frame
Head Form Test Device
PV Load Test Equipment
Pneumatic Tyres Device
Target Light Source Instrument
Anti Smashing GlassTest Frame
Pneumatic Tyres Impact Device
Insulating Glass Dew Point Meter
Crushing Pen for Tempered Glass
Hard/Soft Pendulum Shock Test for Lifts
Optical Distortion Measuring Instrument
Hardened Steel Ball 2260g/1040g/508g/227g
Laminated Glass High Temperature Test Oven
Mechanical load test equipment for PV Module
Tempered Glass Flatness Measuring Instrument
Impactor for building Glass and Metal Guardrail
Hard and Soft Body Impactors for Opaque Wall Components
Shot bag impact frame

Related Standards:
AS/NZS 2208 Safety glazing materials in buildings – Appendix D: Impact Test
GB 15763.3 Safety glazing materials in building Part 3: Laminated glass – Appendix C: Test device for the impact performance of shot bag
ANSI Z97.1 Safety Glazing Materials Used in Buildings - Safety Performance Specifications and Methods of Test - Clause 5.1: Impact Test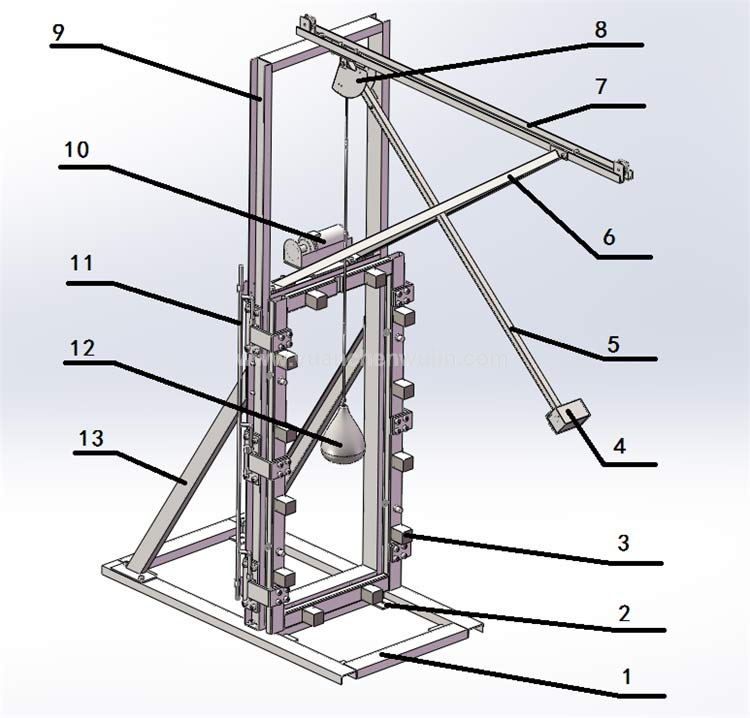 1: Bottom Frame 2: Anchor Bolt 3: Cylinder 4: Electromagnet Release Device
5: Swing Arm 6: Upper Inclined Support 7: Cantilever 8: Scale Dial 9: Main Frame
10: Electric Hoist 11: Control Rod 12: Shot Bag Impactor 13:Lower Inclined Support
Application:
Determining the resistance of glazing materials to impact by the penetration method
Test Frame:
Frame Size: 1900mm*1500mm*3570mm
Samples Size: 1930mm*864mm
Lift: Electric
Release: Auto
Maximum impact height: 1200mm (customized)
Rubber Pad Width: 15mm
Rubber Pad Thickness: 3mm
Rubber Pad Hardness: Shore A50
Impact Shot Bag:
Reinforced leather bag filled with chiller lead shot
Technical Data:
Weight:45kg±0.1kg 46kg±0.1kg
Height: 330mm ± 13mm
Max diameter: 250mm
Leather thickness: 0.15mm
Lead sand size: 2.5mm
Customized: 25kg 48kg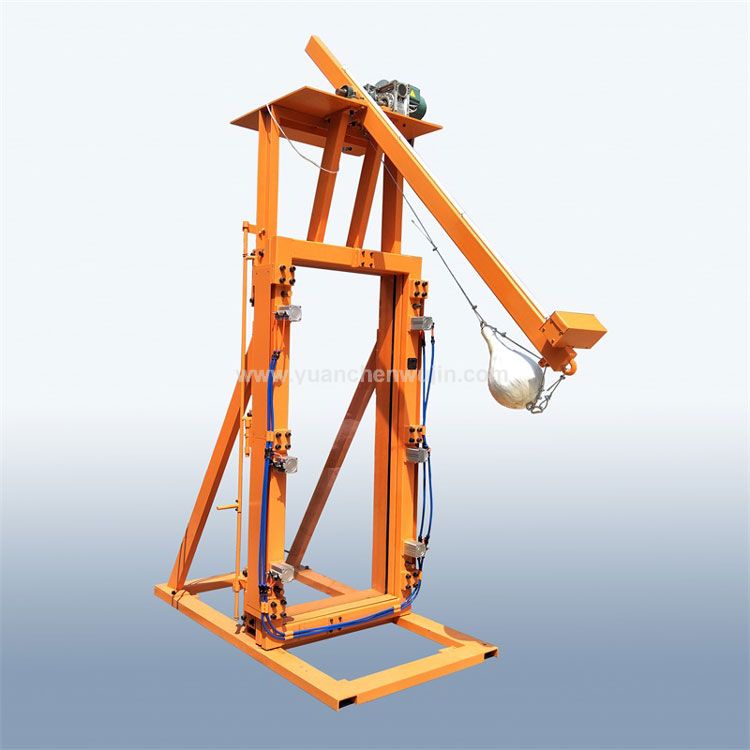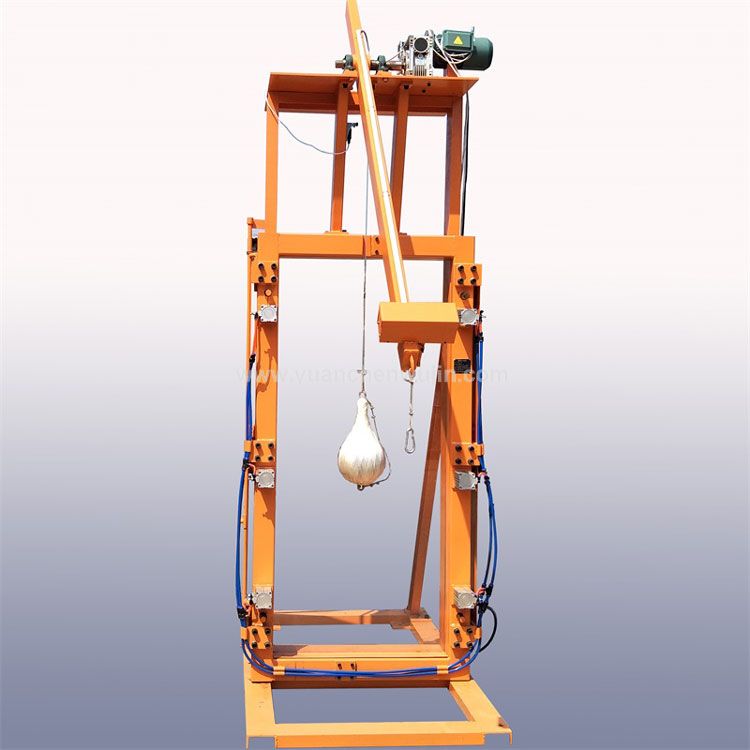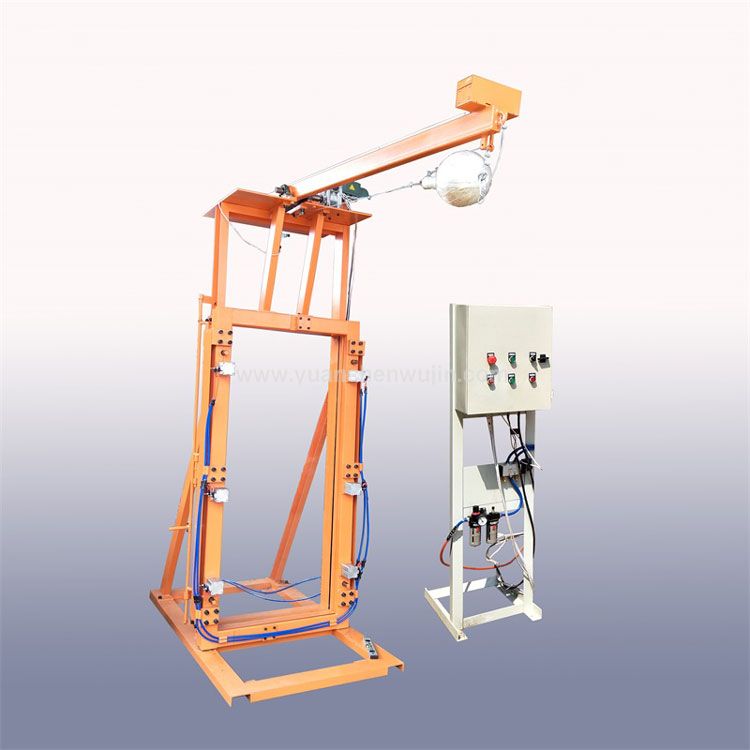 Support and frame for ball tests of Mechanical tests of Safety glazing materials
Related Standard:
ISO 3537 Road vehicles — Safety glazing materials — Mechanical tests – Clause 6: 227 g ball test, Clause 7:2260 g ball test
GB 15763.3 Safety glazing materials in building Part 3:Laminated glass – Appendix B Drop ball impact specimen support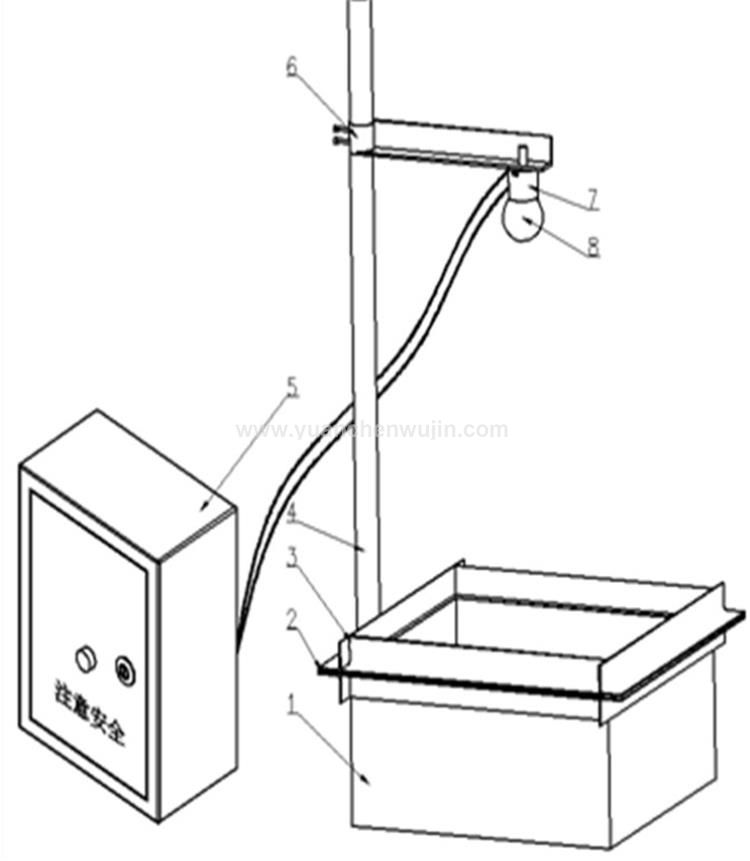 1: support steel box 2: rubber pad 3: steel box pressure frame 4: sample control rod 5: control box 6: sample control rack 7: adsorption device 8: steel ball
Principle:
Determination of whether the safety glazing material has a certain minimum strength and cohesion under impact from a small hard object


Apparatus:Hardness steel ball:
a) 2260g ± 20g, diameter of approximately 82.5mm
b) 227g ± 2g, diameter of approximately 38 mm
c) 1040g ± 10g, diameter of approximately 63.5 mm
d) 508g±3g, diameter of approximately 50 mm
Frame Height: 1000mm, 5000mm, 12000mm, Customized
Automatic release and lift. Power: 220V 50Hz 580W
Supporting fixture:
a) Support Size: 350mm*350mm and 660mm*660mm (Customized)
b) Frame width 15mm
c) Steel box height 150mm
d) Rubber Gasket: thickness 3mm, width 15mm, hardness shore A50
e) Interposed sheet of rubber: thickness 3mm, hardness shore A50
Applied Test Pieces Size: 300mm*300mm 610mm* 610mm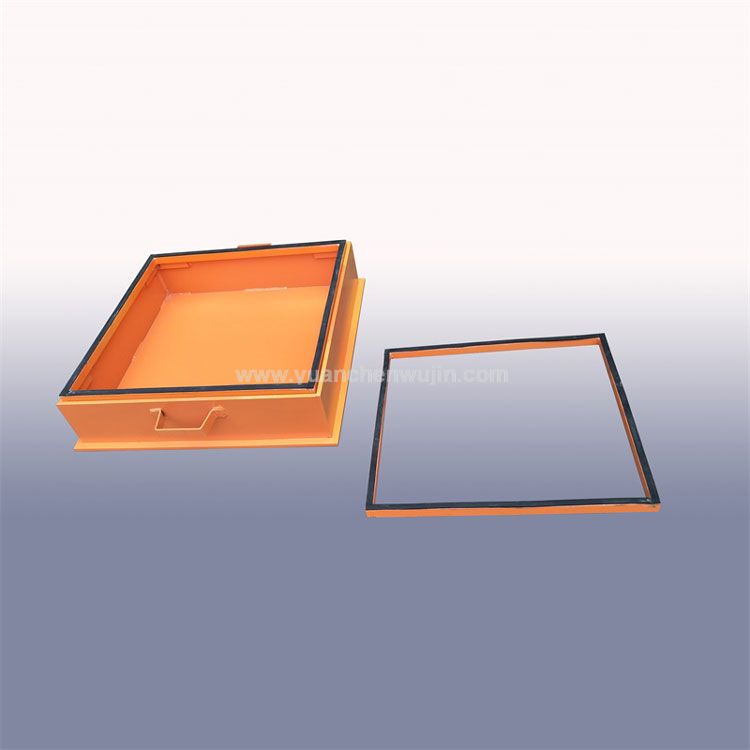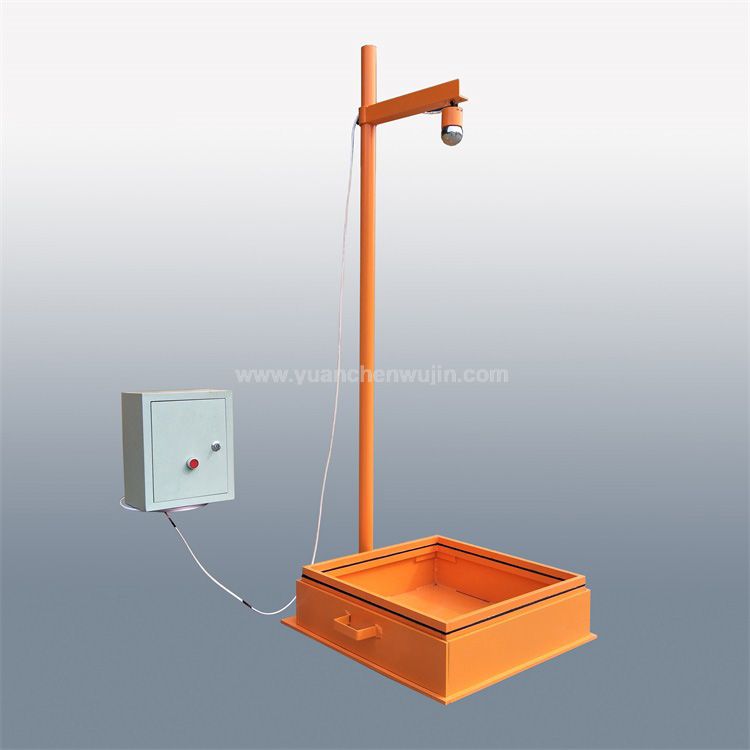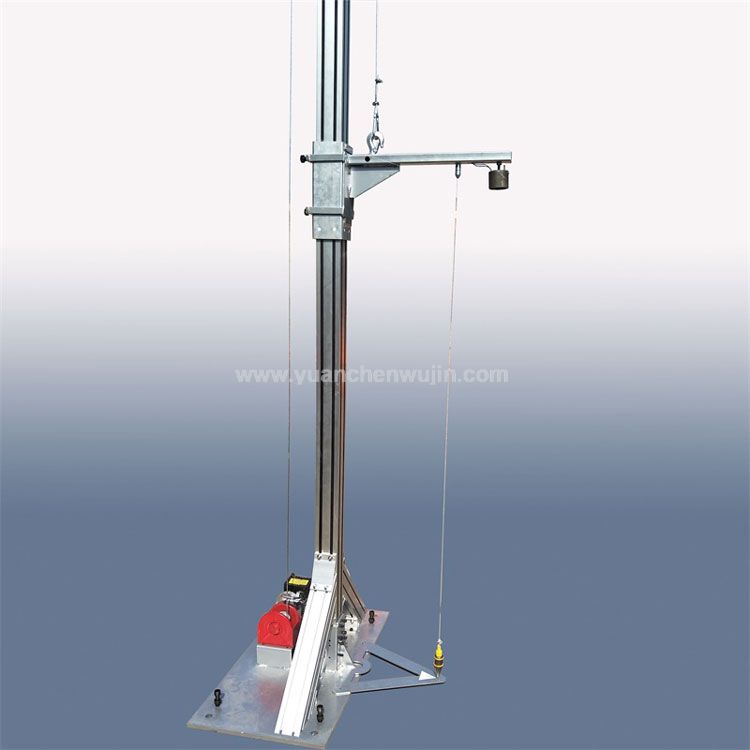 Portable flatness measuring instrument for tempered glass
Related standard:
1) GB 15763.2 Safety glazing materials in building
- Part 2: Tempered glass
Clause 5.4 Camber measuring
2) AS NZS 2208 Safety glazing materials in buildings
Clause 2.5 Flatness requirements

1, Display table 2, Support plate 3, Support block 4, Fixing bolt 5, Measuring head 6, Fixing part 7, Supporting foot
Application:
3) Measurement of arcuate form and wave form of toughened glass
Technical parameters:
4) Resolution: 0.01mm
5) Measuring Span: 300mm-12000 mm ( Customized)
6) Working Temperature: 0~+40℃
7) Working Humidity: ≤80%
Instruction:
8) Adjust the measurement and set up to track the maximum data. Adjust the span of the support block according to request.
9) Adjust the position of measuring head, to ensure that the measuring head is beyond 2mm-3mm of the plane of three support feet.
10) Gently stick the surface of the glass to ensure that three supporting feet are able to touch the glass.
11) Slide the measure location and read the data.
Product features:
12) Continuous measurement and monitoring of the flatness of the glass, data display and recorded.
13) Simple operation, fast measurement, low cost, widely used in the flatness measurement of glass.
14) The specifications of the equipment are various; the measuring span (300mm, 500mm, 800mm, 1000mm, and 1200mm) can be customized according to customers' requirements.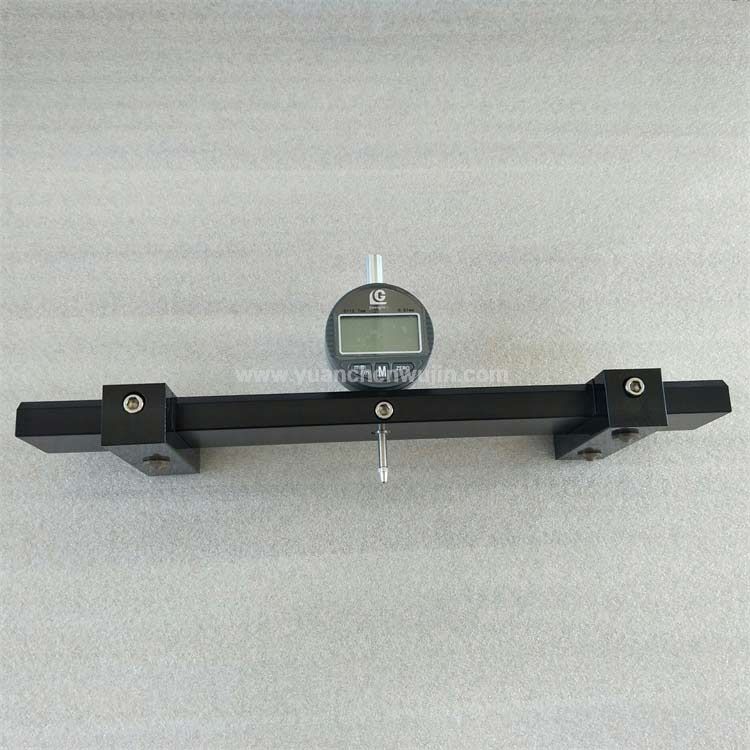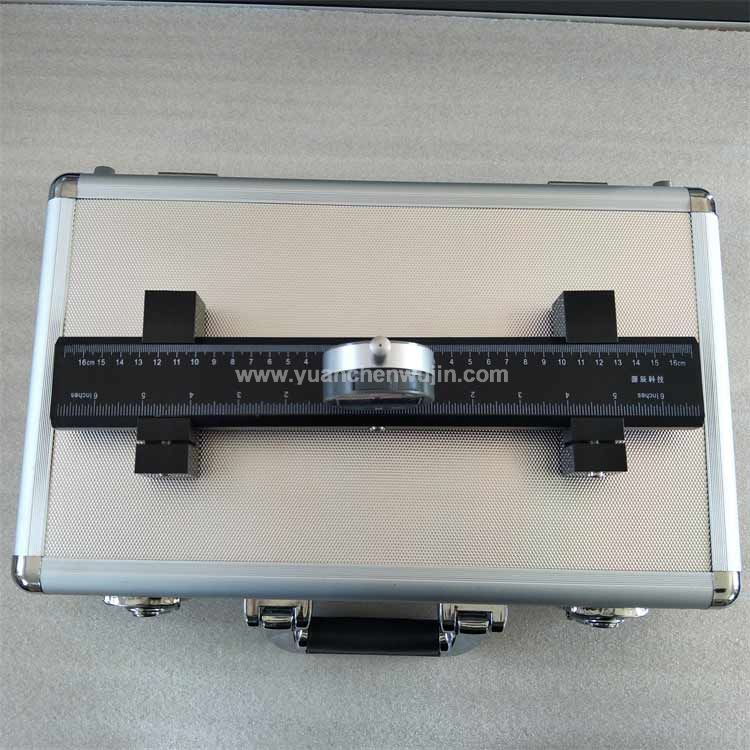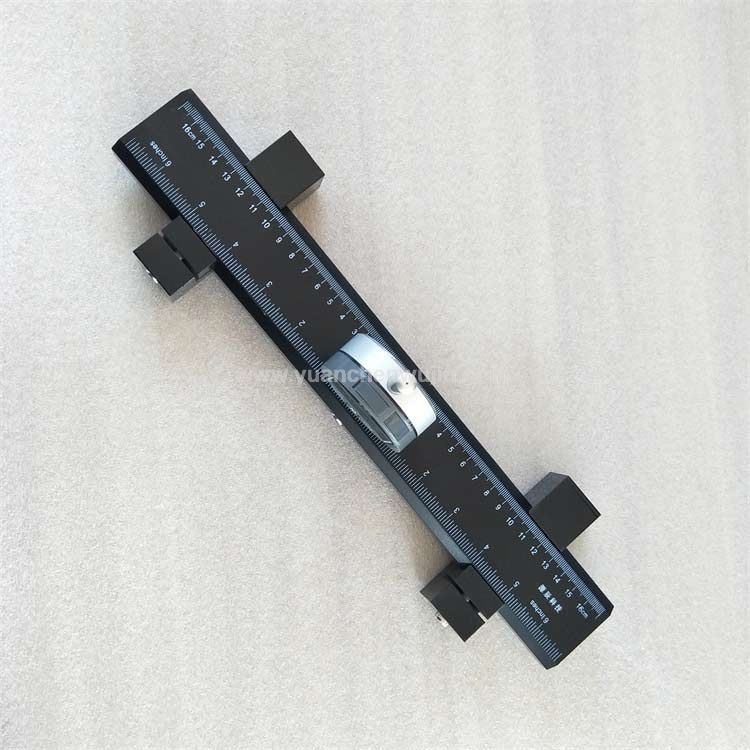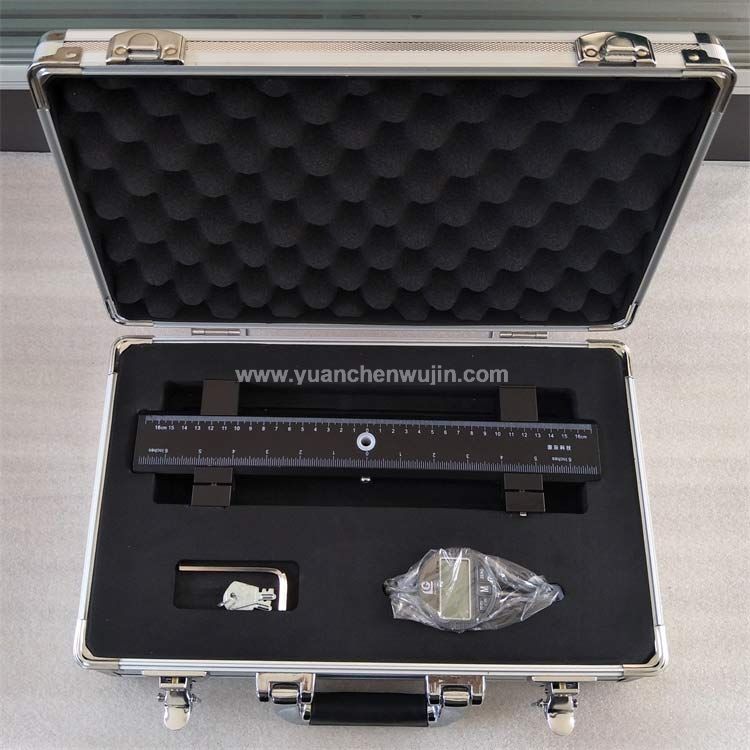 Impact Steel Ball
Material: Bearing Steel
Hardness: HRC 58-64
Specifications:
Weight: 2260g Diameter: About 82mm
Weight: 1040g Diameter: About 63mm
Weight: 508g Diameter: About 50mm
Weight: 227g Diameter: About 38mm