Boiling Device for Heat Resistance Test
Water bath apparatus of Boil test for safety glazing materials in Building
Laminated Glass Boiling Test Device

Reference Standard:
1) EN ISO 12543-4 Glass in building -Laminated glass and laminated safety glass-Part 4: Test methods for durability – Clause 5 High-temperature test
2) AS/NZS 2208 Safety glazing materials in buildings – Appendix F Boil Test
3) GB 15763.3 Safety glazing materials in building Part 3: Laminated glass – Clause 7.8 Heat resistance test
4) ANSI Z97.1 Safety Glazing Materials Used in Buildings-Safety Performance Specifications and Methods of Test-Clause 5.3.2-(1) Boil Test

5) ECE R43 Uniform provisions concerning the approval of safety glazing materials and their installation on vehicles – Clause 5-Test of resistance to high temperature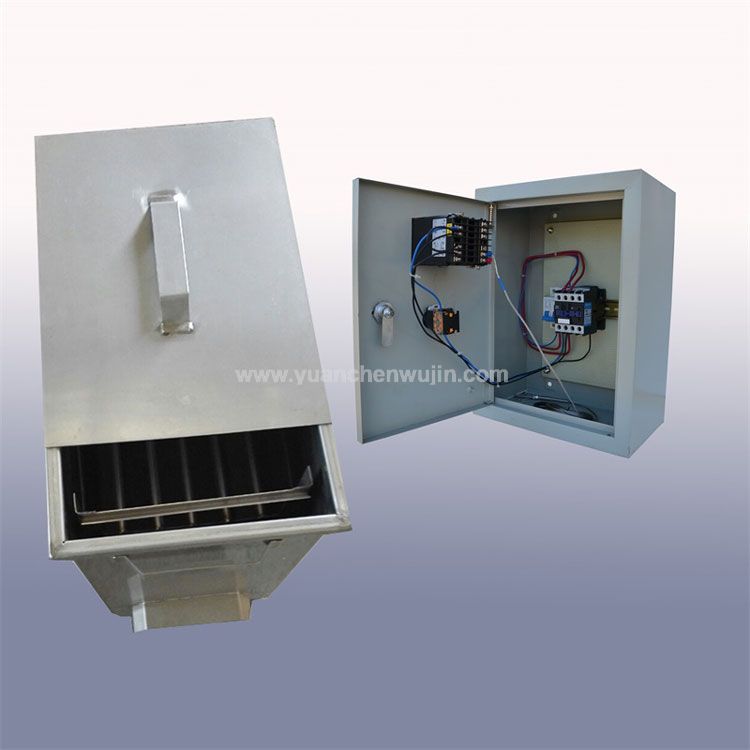 Power: 220V 50Hz 3Kw (Customized)
Outside Size: 430mm*290mm*575 mm
Inner Size: 400mm*255mm*480mm
Rack: 340mm*235mm*350mm

At most 6 samples with 300mm*300mm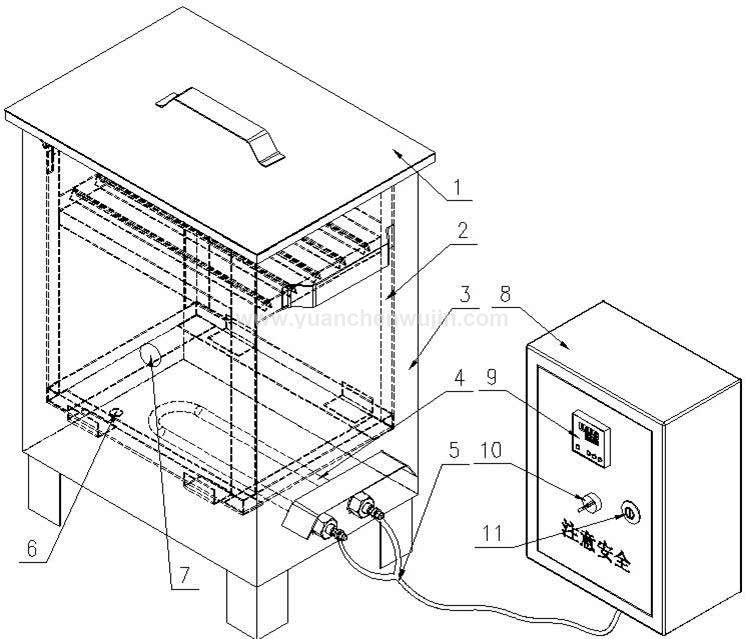 1: cover 2: sample holder 3: cabinet 4: heating rod 5: Power cord 6: drain hole 7: Probe

8: Power distribution cabinet 9: Temperature control table 10: power switch 11: Distribution cabinet lock
Scope:
Determining the effect of exposure of safety glazing materials to temperature and humidity condition by boiling

Principle:
Specimens are immerse in hot water and boiling water for specified period of time and inspect bubbles and other defects

Apparatus:

The apparatus include two water baths, each of sufficient size to hold the test specimen fully immersed vertically on edge for the duration test

Samples:
Three specimen of size 300mm*300mm manufactured in a manner identical with impact test specimens and of like thickness shall be tested. These specimens may be cut from production samples of the size and thickness submitted for impact testing. Test specimen may be cut from a similar original sheet of annealed laminated glass

Procedure:
1): Immerse the specimens vertically on edge in a bath of water maintained at a temperature of 66°C ± 3°C for 3 min
2) Quickly transfer the specimens to a bath of water maintain at boiling point. Immerse the specimens vertically on edge for 2 h
3) Remove the specimens and examine for the bubbles and others defects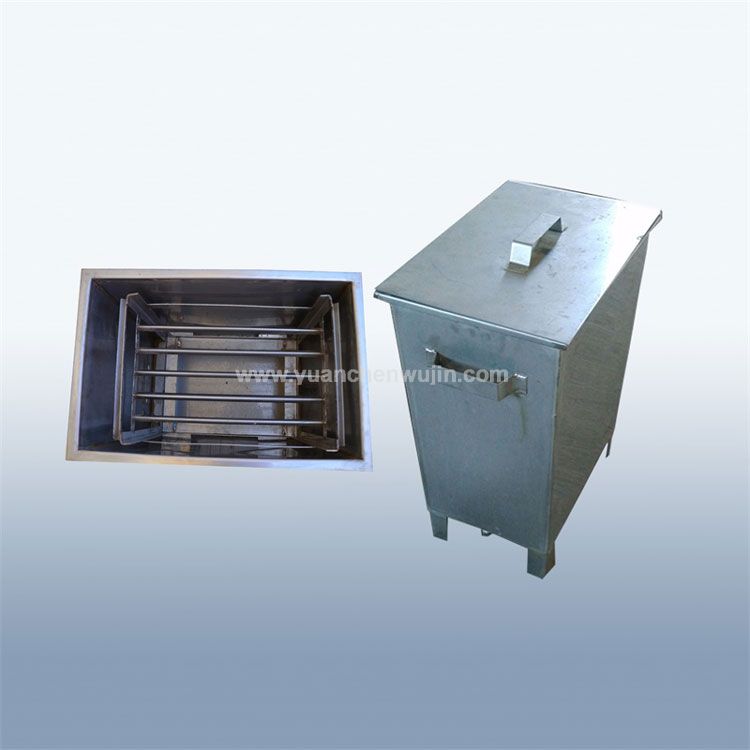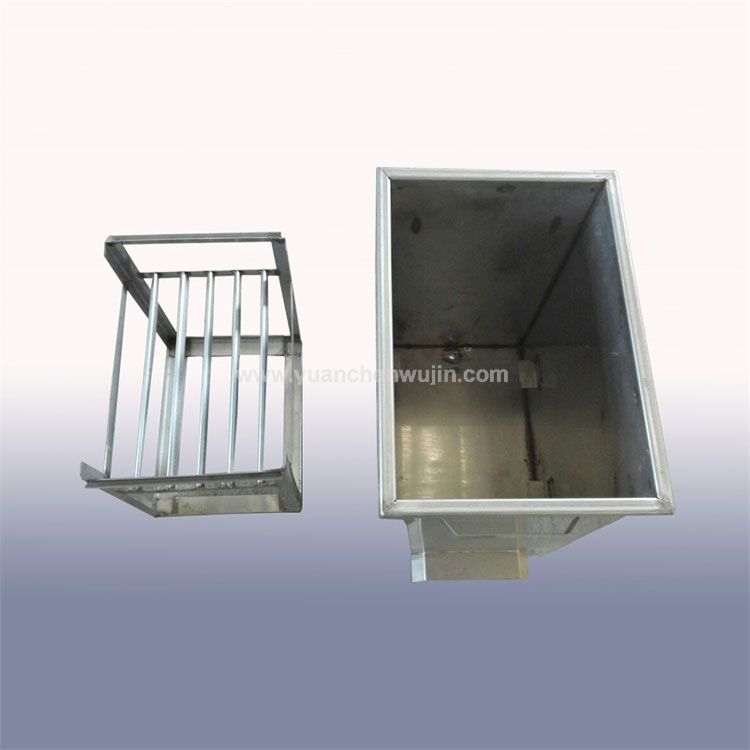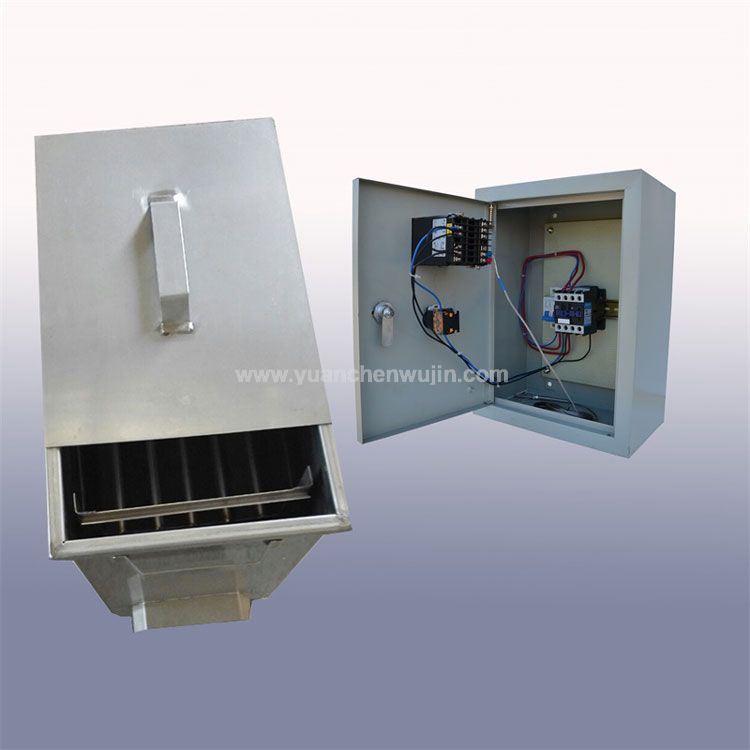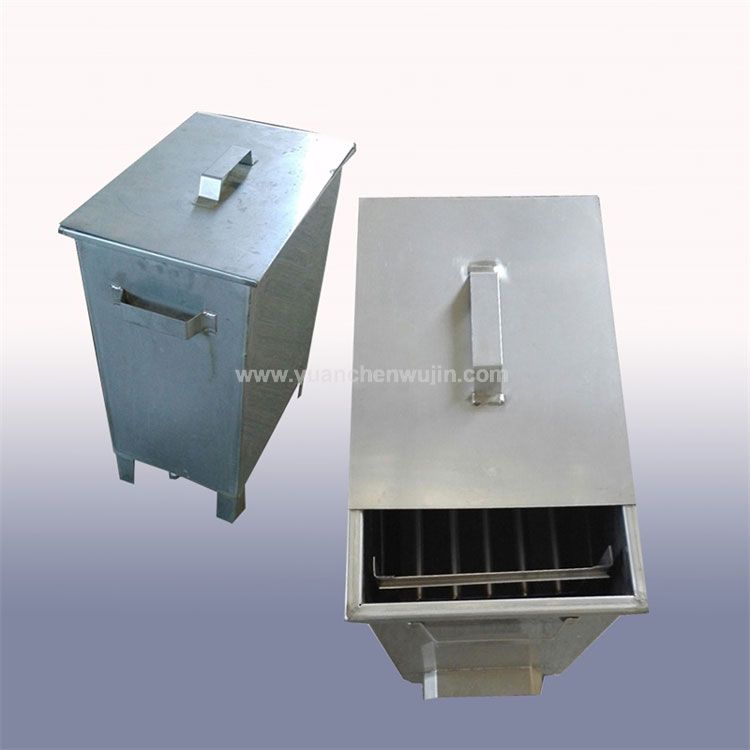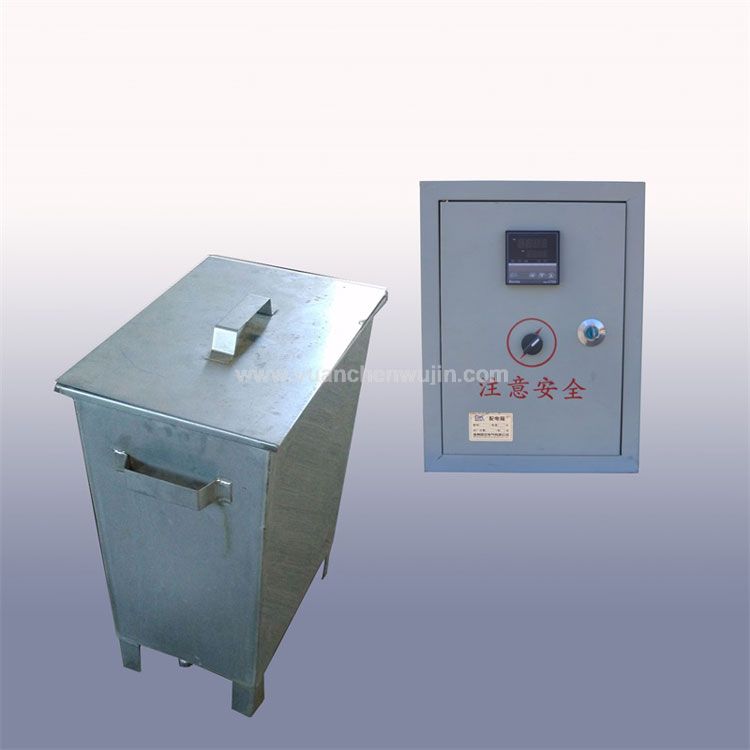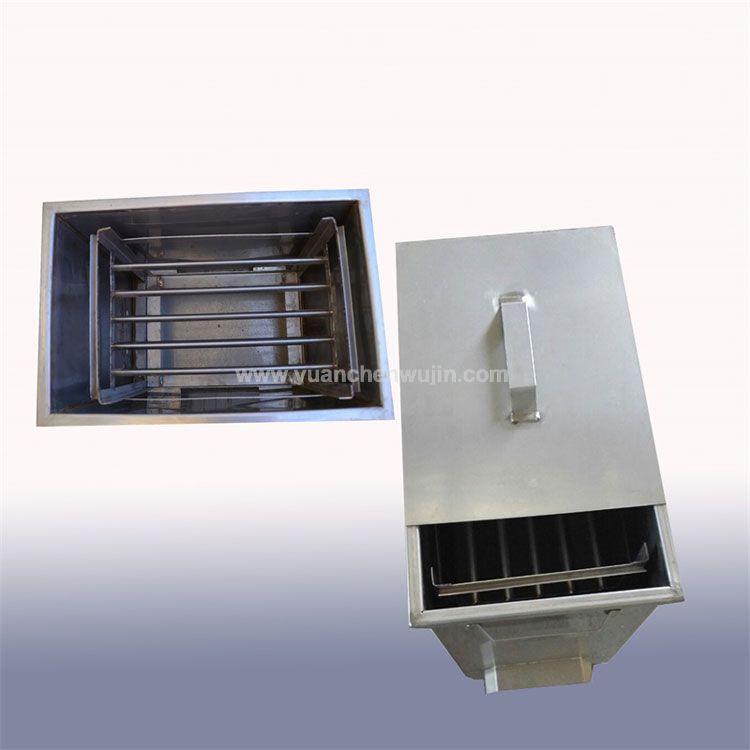 Packaging
Outside Size: 630mm*535mm*530mm
Packaging Weight: 30kg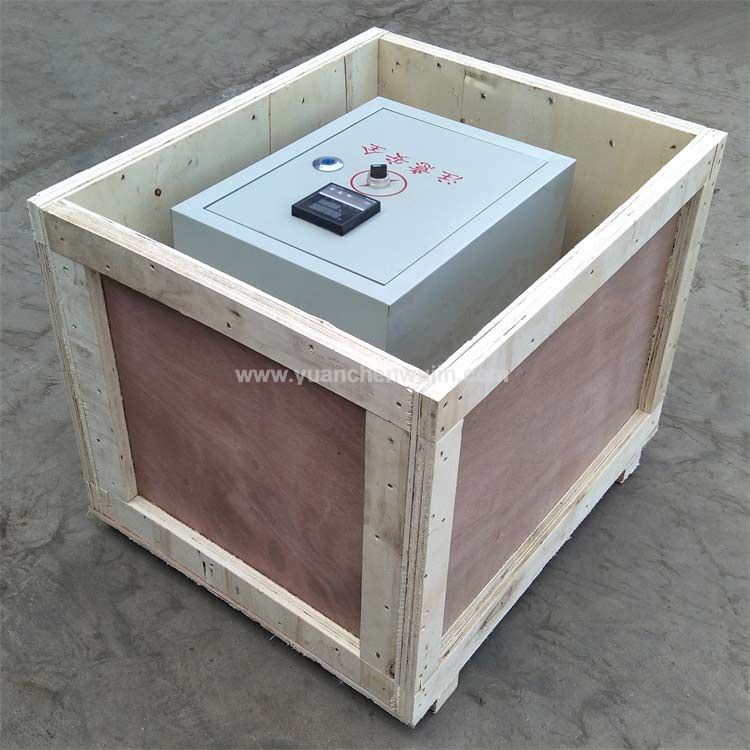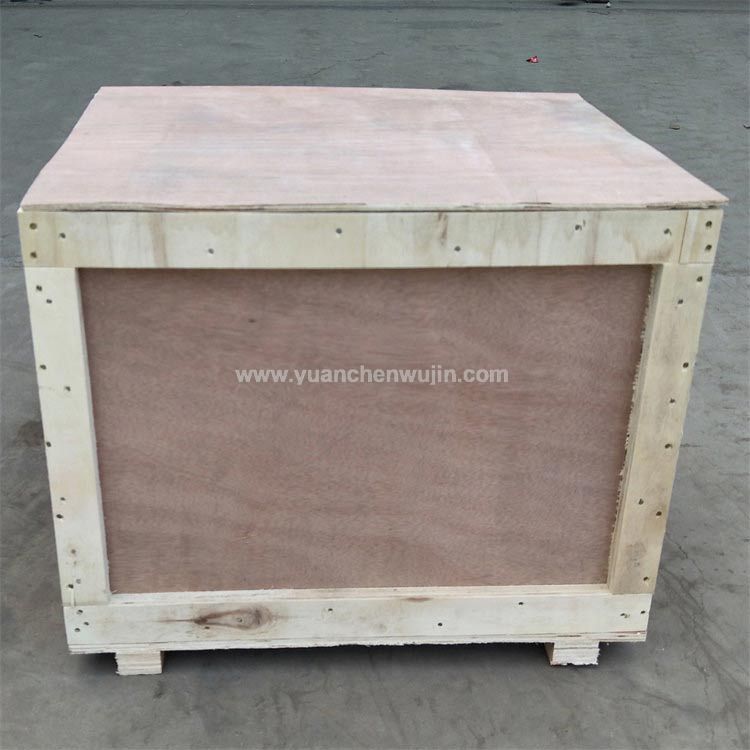 Yuanchen is mainly engaged in the development, design and processing of sheet metal stamping parts, metal forming molds and building materials inspection and testing equipment.
Main business:
Processing Service:
Laser cutting processing services for various metal plates such as stainless steel, carbon steel, and aluminum alloy.
Sheet Metal Parts:
Automobile stamping parts, construction hardware, railway switch parts, electronic hardware, instrument stamping parts, mechanical equipment hardware and medical equipment sheet metal parts.
Tunnel cable hook
Clothing model hook
Instrumentation shield
Steel structure fasteners
Gasket and retaining ring
Guardrail fence pipe clamp
Wire and cable fixing pipe clamp
Pipe gallery slot embedded parts
Stainless steel stamping shrapnel
Mechanical equipment flange connection
Various sheet metal shells and connectors
Testing Equipment:
Safety glass testing equipment, photovoltaic module testing equipment and various building materials testing and testing equipment.
Ball Test Machine
Shot Bag 45kg/46kg
Pummel Test Machine
Impact Testing Frame
Head Form Test Device
PV Load Test Equipment
Pneumatic Tyres Device
Target Light Source Instrument
Anti Smashing GlassTest Frame
Pneumatic Tyres Impact Device
Insulating Glass Dew Point Meter
Crushing Pen for Tempered Glass
Hard/Soft Pendulum Shock Test for Lifts
Optical Distortion Measuring Instrument
Hardened Steel Ball 2260g/1040g/508g/227g
Laminated Glass High Temperature Test Oven
Mechanical load test equipment for PV Module
Tempered Glass Flatness Measuring Instrument
Impactor for building Glass and Metal Guardrail
Hard and Soft Body Impactors for Opaque Wall Components
The company has a professional technical team and rich processing experience, with a complete processing and manufacturing system and advanced technology, to meet customer requirements for product quality and provide convenient and efficient services!